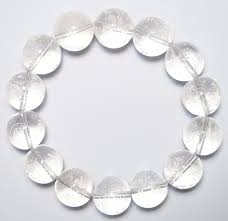 GEMSTONE – CLEAR QUARTZ BEAD BRACELET ,10mm (round)
This bead style is comfortable to wear and easy to mix and match with fashion styles. They are made with stretch cord for an easy fit.


Pure quartz is composed of silicon dioxide and forms six sided crystals. The master stone, once thought to be solidified light, is used by many to remove negativity and promote harmony and co-operation within an environment. It is also used in cleansing and energizing other crystals and minerals. Excellent for meditation and accessing higher self and guides.