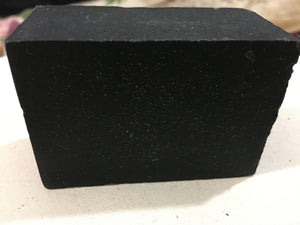 Black knight Bar soap is carefully created with activated charcoal. Vegan with Natural Moisturizing oils and shea Butter. This bar is very popular amongst our customers as well as our staff due to Charcoals age old detoxifying qualities.
Detailed Information:
Ingredients: Saponified Olive Oil, Saponified Coconut Oil, Saponified Palm Oil, Saponified Shea Butter, Water, Activated Charcoal
INCI Ingredients: Sodium Olivate, Sodium Cocoate, Sodium Palmate, Sodium Shea Butterate, Water/eau, Activated Charcoal
Note: Due to the level of Activated Charcoal contained in this soap, it can be common for a white "ash" to form on the outside of the soap bar. Bars simply need to be wiped with a clean cloth if this occurs.