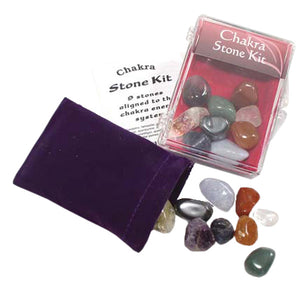 CHAKRA STONE KIT
These kits provide a great way to learn about chakra energy centres and how healing stones work with the body. Includes 9 semi-precious stones from Brazil, a velvet gembag and an information sheet.


Stones include Red jasper, carnelian, citrine (heated), green aventurine, blue lace agate, sodalite, amethyst, hematite, quartz.


Chakra is a Sanskrit word that means wheel. It refers to the energy centers found in the body. Most Eastern traditions describe seven major Chakras positioned along the midline of the body from the base of the spine to the crown of the head.