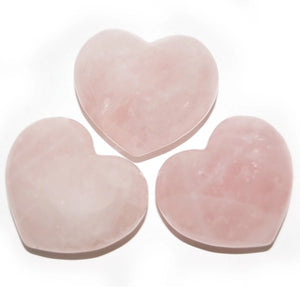 PUFFY HEART ROSE QUARTZ 45 mm
Rose quartz has been shaped into a heart and highly polished to show off its natural beauty. Puffy hearts make thoughtful gifts as wedding favours, valentines gifts, mother's day presents or just because.


Rose quartz is a member of the largest family of stones, the silica group and is composed of silicon dioxide with traces of titanium. It emits a calming, cooling energy which can work on all of the chakras to gently remove negativity and to reinstate the loving, gentle forces of self-love. The pink colour of rose quartz has been symbolic of love throughout the ages.


The heart has long been used as a symbol to refer to the spiritual, emotional, moral and in the past, the intellectual core of a human being. As the heart was once widely believed to be the seat of the human soul, the word heart continues to be used poetically to refer to the soul and stylized depictions of hearts are used as prevalent symbols representing love.