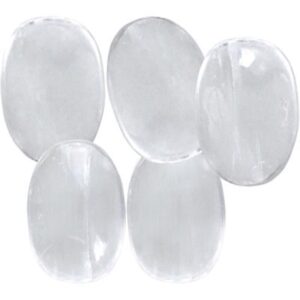 SELENITE PALM STONE
Satin spar selenite palm stones (pocket stones, touch stones, worry stones) fit nicely into the palm of the hand. These tactile stones from Morocco are beautiful to display and admire but are small enough to place under a pillow or tuck into a bag or pocket. They can be chosen to hold during meditation or to place on a body part for healing and massage.


Selenite is named after the Greek word for moon, contrary to popular belief, it contains no significant selenium. Satin Spar selenite is a form of fibrous and crystallized gypsum. Other varieties include alabaster, selenite, desert rose and gypsum flower, gypsum rock, ram horn and sand gypsum. It is common to refer to satin spar as selenite.


As a healing stone, this mineral is commonly used to charge or cleanse crystals. It is said to help regenerate the cellular structure and has been used to correct skeletal disorders and to promote flexibility. Selenite also provides clarity of mind, expanding awareness.