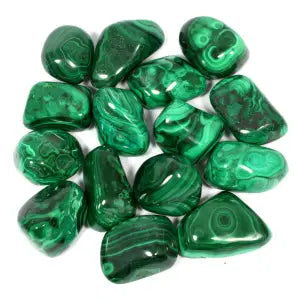 TUMBLED MALACHITE
Malachite is a carbonate containing 57 percent copper. It is azurite without the attached water molecule, though both are found in copper mines. This green banded mineral often forms in masses deep underground where there is precipitation.


In the healing world, it is a stone of transformation and balance, assisting ones spiritual journey. Capable of stimulating intuition and insight while helping to clear past unwanted influences. It was once worn as a stone of protection.


Whether you're looking for tumbled stones to offer as learning and discovery tools, unique heartfelt gifts, as home accents in fountains, vases, candle displays and plants or you are selecting them for special meditation and healing practices, you will find a wide selection on our site.