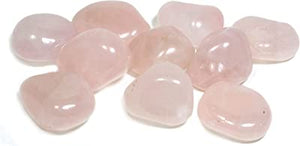 TUMBLED ROSE QUARTZ
Rose quartz is a member of the largest family of stones, the silica group and is composed of silicon dioxide with traces of titanium.


As a healing stone, it emits a calming, cooling energy which can work on all of the chakras to gently remove negativity and to reinstate the loving, gentle forces of self-love. The pink colour of rose quartz has been symbolic of love throughout the ages.


Whether you're looking for tumbled stones to offer as learning and discovery tools, unique heartfelt gifts, as home accents in fountains, vases, candle displays and plants or you are selecting them for special meditation and healing practices, you will find a wide selection on our site.